Crowley Auto Body takes the stress out of getting your vehicle repaired. With years of experience, our team is ready to handle vehicle repairs and handle communication with insurance companies so you don't have to.
We offer towing services, storage, rental cars, and a repair process with a history of quality repairs that you won't find at other shops. Our investment in the best tools and equipment, as well as an investment in team member training, ensures that you get your car back looking like new! And, once we return your vehicle to you, we guarantee our work for as long as you own your car.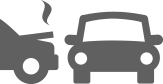 Crowley Auto Body understands that accidents can cause trauma and a great deal of hardship in your life. Our repair processes seek to minimize the stresses associated with your accident. 

Our paint process starts with highly trained paint technicians who understand the state-of-the-art paint processes.

Sometimes scratches and dents happen. At Crowley Auto Body, our team of experts are capable of repairing a small ding or dent in your vehicle.